protel presents the world´s first hotel management system for the iPad at the Arabian Travel Market 2011
German hotel software company presents mobile hotel software solutions in Dubai
Wednesday, 25 May 2011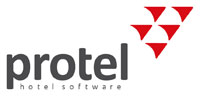 Germany-based protel hotelsoftware presented the world's first property management system for iPad at the Arabian Travel Market (ATM), a leading event for the travel and tourism sector in Dubai. Setting the focus on mobile solutions for the hospitality industry, protel this year showed hotel apps for hotel managers, teams and guests and introduced the new "full-service" SaaS solution, protel Air.
Who needs hotel software on an iPad? Many visitors at the ATM booth of protel international, who for the first time could lay hands on "protel for iPad", grasped the answer quickly. The clearly structured layout offers great usability even for inexperienced users and is a fun experience for anyone. Tablet devices offer many advantages to hotels, as business processes become more and more independent of location. A few examples: Hotels can use iPads as "floating front desks", offering guests mobile services like check-in or check-out. iPads could even be employed as support work stations to reduce demand peaks.
With protel Air, protel expands its SaaS product line. protel Air is a full-service solution and a true "Software-as-a-Service" application, which is hosted in a secure data centre environment. Benefits for the user: Additional hardware and installations in the hotel are unnecessary; the sole requirement is an Internet browser. The software is maintained and updated by protel. Data security is also taken care of by protel. With its extended range of functionalities and based on the latest technology, the easily scalable cloud application is the perfect solution for all hotels who value flexibility, reliability and security.
With protel Voyager protel presented a customizable mobile app for hotel guests. To spare guests the need to install one app for every single hotel they stay in, "protel Voyager" is designed as a "web app" which runs on the mobile device browser, optimised for iOs- or Android-driven mobile devices or BlackBerrys. The app offers access to guest relevant functions of the property management system like booking services. It also offers access to location based services advertising local events and facilities and to the hotel's social networking sites such as Twitter, Facebook or LinkedIn. protel Voyager will encourage guests to report positive feedback and ensure their return using the app and the hotel's web booking engine.
From the fringes of the Arabian Travel Market, Magued Malek, director of protel international in Dubai, could report another pleasant success. Jebel Ali International Hotels signed a master agreement for all properties. Starting in September, all JAIH hotels will switch to protel MPE (protel multi property edition).
Further information
Please find further information and pictures of all mobile applications by protel on our product page.
The native hotel app "protel for iPad" will be sold as of June 2011 via the Apple App-Store and can be installed on the iPad.
The web based hotel apps "protel Cockpit" and "protel Voyager" can run on iOs as well as on Android mobile devices.
Interested in the potential of SaaS solutions? Then check out our white paper SaaS: Software-as-a-Service which provides general information on the subject and useful software links!
Jebel Ali International Hotels (JAIH) is a highly reputed luxury hotel operator based in Dubai, with a longstanding tradition of hospitality and excellence. Established in 1981 as a branch of Dutco, Jebel Ali International Hotels continues to develop its extensive range of products and services to surpass the needs and expectations of the discerning luxury traveler.
About protel | Hotel software made in Germany
protel hotelsoftware develops and sells technology and service solutions specifically and exclusively for the hotel industry and related sectors. The consistent focus on the demands of a single industry makes protel one of the most experienced and successful providers of professional property management systems (PMS). protel's product portfolio caters to the needs of every market segment from small individual hotels to multinational hotel groups. By offering licensed on-premises and Software-as a-Service (SaaS) solutions, protel provides clients with the flexibility to quickly adapt as their business needs change and evolve.

Founded in 1994, protel hotelsoftware GmbH currently operates under the leadership of managing partners Ingo Dignas, Jörg Hermann and Manfred Osthues. With headquarters located in Dortmund, Germany, a branch office in Dubai and a dense network of partner companies working in close cooperation, protel enjoys a worldwide presence. Over 11,000 hotels and hotel management schools (4,000 of whom are registered as protel Cloud users) in more than 80 countries attest to protel's high-level expertise and reliability.

Further information: www.protel.net
Visit us at