Market Pulse: Tampa, FL
By Mallory B. Hall & Jeffrey D. Pennington

Wed, 6 December 2017
Tampa's warm weather and relatively inexpensive cost of living are just a couple of the reasons people and companies are relocating to the Tampa Bay area from far and wide. Continued investment by both the public and private sectors is anticipated to set the stage for continued growth. These factors, among others, are driving hotel demand and room-night production, which is leading to an increase in new hotel developments.

Area Developments
The first phase of a multibillion-dollar development in Downtown Tampa officially broke ground in September 2017 with the Morsani College of Medicine and Heart Institute, an urban medical school. The project will include the redevelopment of several vacant lots, as well as the construction of a 500-room convention hotel (including 75,000 square feet of banquet space) near the Amalie Arena. Additional components of this development include corporate headquarters, condominiums and apartments, Class-A office space, and a boutique hotel, as well as shops and restaurants. Additionally, the reconfiguration of a portion of Channelside Bay Plaza, which began in October 2017, aims to open the pedestrian walkways between the plaza and neighboring attractions, such as the Florida Aquarium and Amalie Arena; this portion of the master-planned development will be known as Water Street. Furthermore, changes to the roadways and sidewalks, which are already underway, will promote a more walkable Central Business District. The initial phase of the project, led by Strategic Property Partners, is expected to deliver to market in 2020, with subsequent phases delivering through 2026.

Hillsborough County officials are in talks with the Tampa Bay Rays to relocate its home field from across the bay in St. Petersburg to Tampa. The County Commissioner announced in October 2017 that they have reached an agreement with land owners in the Ybor City District to gain control of approximately 14 acres of land on which the ballpark would be located. Although Tampa is a strong contender to win the site selection for the Major League Baseball team, other locations in Pinellas County, including a redevelopment of the Tropicana Field site, are also under consideration. An agreement made in 2016 between the City of St. Petersburg and the Tampa Bay Rays allows the team three years to shop around for a new home field. That deal reportedly runs out in January 2019, although the team is expected to make a decision favoring the Ybor City site by the end of 2018.

In October 2016, Johnson & Johnson opened a new Global Service Center in North Tampa. The 88,500-square-foot facility opened with nearly 250 employees; it is anticipated to bring another 300 employees to the market by 2020.

Tampa International Airport is undergoing a bevy of expansion projects and upgrades, geared toward accommodating increased travel through the region well into the future. A $2.5-billion master plan was approved in April 2013 for the airport. The first phase of this plan, which will include the construction of a $417-million, 2.6-million-square-foot consolidated rental-car facility; a 1.4-mile automated people mover; and an expansion of the Main Terminal is scheduled for completion in 2018. A Hard Rock Café and a P.F. Chang's Bistro were added to the main terminal (pre-security) in August 2016. An additional 63 concessions will be open by December 2017, 32 of which will represent food-and-beverage establishments, and 31 of which will feature retail operations. Additional changes will include the expansion of the current terminals to accommodate an increased number of international travelers; the development of additional commercial, retail, restaurant, and hotel space; and the construction of a new air-traffic-control tower. In 2016, passenger traffic almost surpassed 19 million, a level not reached since 2007, and data for 2017 reflect continued growth in passenger traffic.

Passenger Traffic - Tampa International Airport (source: Source: Tampa International Airport)
Major Industries
The greater Tampa area benefits from diverse economic drivers, including finance, government/military, and tourism and leisure, and area universities support the market by providing an educated workforce. This market has benefited from the distribution of stimulus funds, which have paved the way for construction projects such as the $421-million Selmon Expressway/Interstate 4 connector project and improvements at the airport. Completed in 2014, the connector features dedicated exit/entry lanes to the Port of Tampa, which officials report is critical to the expansion and competitiveness of the Port's container trade and cruise ship businesses. One of the largest employers for the market is the MacDill Air Force Base, home of the 6th Air Mobility Wing and 53 mission partners, including United States Central Command and United States Special Operations Command. MacDill's diverse missions and global responsibilities place it on the cutting edge of the Air Force's transformation. According to base officials, MacDill has an estimated annual economic impact of $5 billion on the greater Tampa area and employs roughly 18,000 personnel.

Tampa draws over 20 million tourists annually, the majority of which are domestic visitors, resulting in an annual economic impact of nearly $6 billion. Major attractions in the area include Amalie Arena, Raymond James Stadium, and the numerous beaches in St. Petersburg and Clearwater, as well as the Busch Gardens and Adventure Island theme parks. Moreover, the Tampa Bay area is home to franchises in the MLB, NHL, and NFL. In October 2017, the NFL gave the final approval for Tampa to host Super Bowl LV in 2021, after the originally selected venue in Los Angeles reported delays to the opening of its venue.

Meetings and Conventions
The primary meeting and event venue serving the Tampa-St. Petersburg-Clearwater area is the Tampa Convention Center, located in Downtown Tampa. The Center's statistics from 2008 through 2016 are illustrated below. In 2012 (a peak year for hotel room nights generated by the Center), Tampa hosted the Republican National Convention, accounting for a large number of attendees that year. According to officials at Visit Tampa Bay, 2016 attendance at the Tampa Convention Center was bolstered by several large-scale events, including the National Baptist Convention's National Baptist Congress, International Shriners 2016 Imperial Session, AEAONMS Prince Hall Shriners 2016 Imperial Session, Varsity Spirit NCA Dance 2016 Summit, and NCAA Frozen Four Championship. Most recently, Tampa hosted the College Football National Championship in January 2017.

Convention Center Statistics (source: Source: Tampa Convention Center)
Existing Hotel Supply
Of the approximately 17,700 hotel rooms in Tampa proper, roughly 92% belong to branded properties, with the remaining 8% operated independently. Of the 16,400 branded rooms, Marriott International currently has 33% of the market share, while Hilton Inc. operates approximately 24% of the market share. Additionally, Wyndham Worldwide, InterContinental Hotels Group (IHG), and Choice Hotels International each represent a notable portion of the branded rooms in the market, ranging between 7% and 10% market share.

Branded Hotel Supply (source: HVS, STR)
New Hotel Supply
Most of the current hotel development in the city is concentrated in and around Downtown Tampa and the surrounding submarkets. Nearly 1,400 rooms are in various stages of development. The Westshore/Airport market in South Tampa closely follows, with approximately 1,300 rooms under development. Other areas of Tampa, such as Wesley Chapel and Citrus Park, are in the process of developing a number of limited- and select-service hotels. Additionally, the DoubleTree by Hilton Tampa Airport - Westshore is expected to be converted from a hotel to a transportation hub affiliated with Tampa International Airport; according to city officials, the conversion is anticipated to take place within the next five to seven years.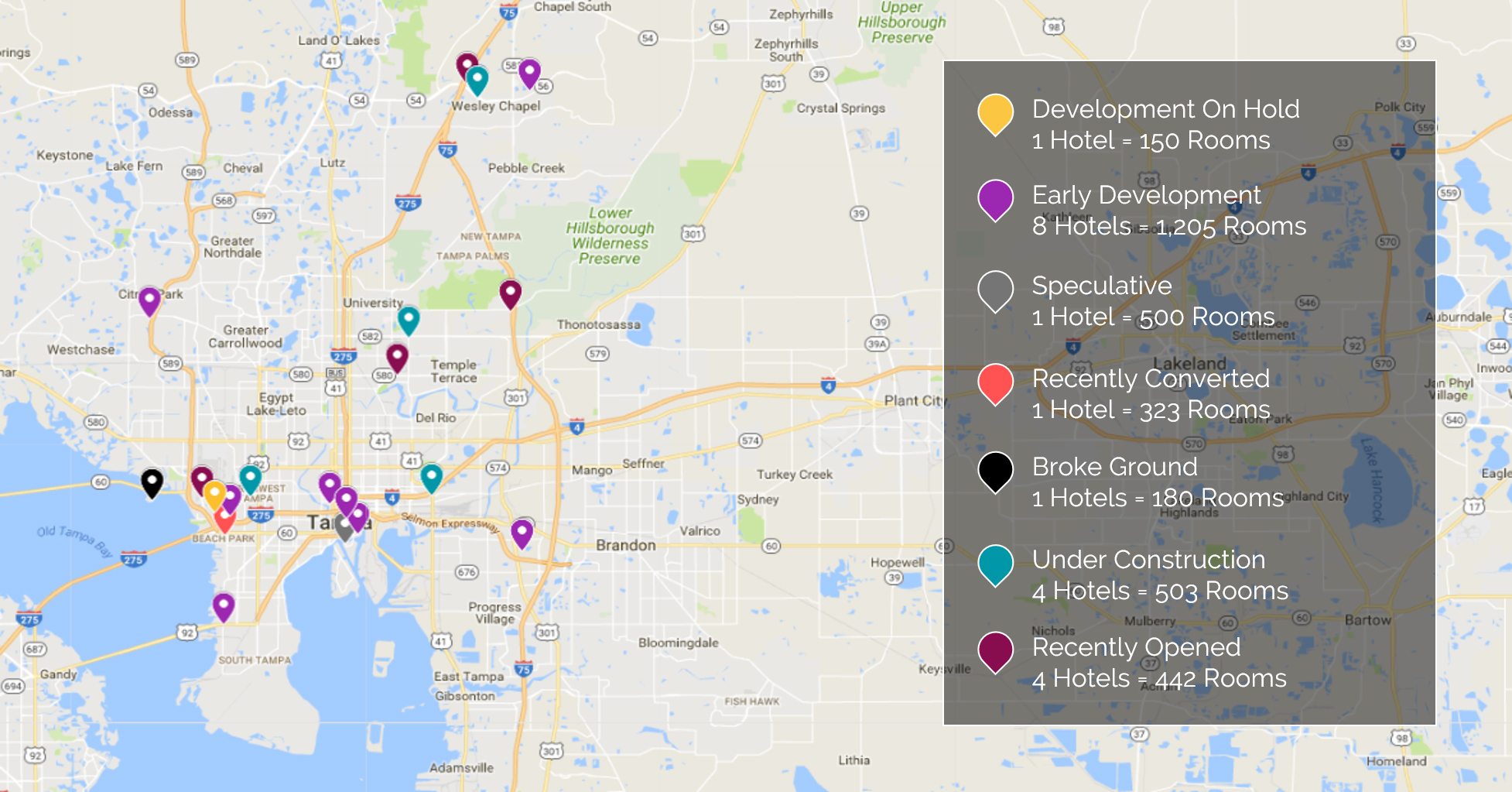 Conclusion
Tampa remains among the most cost-efficient places to live and do business in the nation, and the greater MSA contains one of the largest financial-services clusters and overall largest office-space communities in Florida. The government/military sector also continues to be one of the region's major employers, which contributes substantially to the local economy. Development continues in Downtown Tampa; other areas of growth include the neighborhoods surrounding the University of South Florida, as well as the Westshore area. Greater Tampa is home to a myriad of scenic beaches, Busch Gardens Tampa Bay, and the Port of Tampa, a launching point for various cruise-ship operators, which all boost visitation. The overall outlook for Tampa is optimistic due to the abundance of projects occurring throughout the area. Furthermore, Hillsborough County is fast approaching the possibility of being declared a "high-impact tourism" destination, meaning that it generates nearly $30 million per year in bed tax. Once it reaches the $30-million mark, expected to occur by the end of 2017, the County will be eligible to increase the bed tax from its current 5% to 6%.
Mallory B. Hall
A Project Manager with HVS Atlanta, Mallory Hall works on hotel consulting and appraisal assignments across Georgia and the southeastern U.S. Mallory's prior experience in hospitality includes service and management roles at the full-service Grand Hyatt hotel in the Atlanta suburb of Buckhead. She formerly gained experience in finance, client service, and marketing at CapTrust Advisors in Tampa and at British Education, Ltd., an educational consulting firm operating out of Shanghai, China. Mallory graduated from the University of Florida with a degree in French and earned her MBA from Les Roches International School of Hospitality Management. Contact Mallory at +1 (813) 956-6900 or mhall@hvs.com.
#HVS_Consulting on Twitter
Organization
HVS
369 Willis Avenue
Mineola, NY 11501
United States
Phone: +1 (516) 248-8828
Fax: +1 (516) 742-3059
Visit Website
Social Media
Focus
Geo Relevance
USA & Canada
United States, FL, Tampa
Source
Click here to view the original version of this release.