Teaching Hotel has a Green, Clean Plan
Construction of Kirkwood facility includes energy-smart infrastructure with surprisingly short payback benefits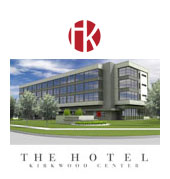 Mon, 19 April 2010
It isn't every day that the spirit of environmentally sound practice finds a fan base among the fiscally cautious, bottom-line planning set. But an innovative new project at Kirkwood Community College is proving the compatibility of those two goals.The Hotel at Kirkwood Center is nearing completion, with a target opening of July 2010. As its creative blend of top-shelf guest services and hands-on teaching opportunities opens the doors to the public, many energy efficient tools and systems will also go to work, providing superior comfort while keeping electric and water meters in check. Many of the systems rely on "smart systems" that detect changes in teaching lab, restaurant and guest room situations and make adjustments based on changing needs.
Through new building methods, recent technological developments and ingenuity born from economic needs, the Kirkwood project is developing into a showcase of creative building management answers with surprisingly fast returns on investment. Estimates from Design Engineers of Cedar Rapids, a main infrastructure subcontractor, estimate a net savings of $140,000 per year beyond code base, and a total payback time for all implemented strategies of just over two years.
Executive Director of Facilities Tom Kaldenberg says the energy efficiencies for the new facility work well in several integrated ways.
"We have brought many different ideas to work individually, and as part of an overall energy saving strategy here at The Hotel. This new building is the latest in a series of energy efficient construction projects that go back to 2003. The geothermal systems, efficient lighting and other factors are all refined and improved with each project. The new hotel is where a lot of these energy-smart tools really start to work together," Kaldenberg said.
A centerpiece of the new hotel's energy saving plan is a heating/cooling strategy that benefits from both the laws of physics and the economics of large-scale electric company billing procedures. A series of seven water-to-water heat pumps alternately deliver chilled and heated water to various hotel and lab areas on a constant basis. One key function of these seven pumps is to freeze ice in nine "ICE KUBE" units late in the night when energy rates are lowest. That trapped ice then melts the next day, cooling the Hospitality Arts classrooms, kitchens and Class Act restaurant when daytime electric rates are much higher. This process is a significant part of the energy savings solutions in the facility.
Another key to design at The Hotel is a strategy already embraced by Kirkwood in several new construction sites: geothermal wells for heat/cooling exchange. The hotel/culinary facility uses ground heat exchangers, with more than 200 bored wells and a total bore depth of more than 60 thousand feet. Both water-to-air and water-water exchanges will provide cooling, heating and water to the 117,000 square foot hotel, including its 71 guest rooms, restaurant, and extensive classroom and lab facilities.
Other energy-conscious designs include:
Variable air handling and exhaust units in the culinary teaching kitchens. Advanced monitoring controls continually monitor kitchen cooking surfaces, activating on low speed when any heat is detected. If smoke is detected the fans increase in speed to dissipate the output until it is controlled.
Two different air handling systems in the culinary teaching kitchens. Fully conditioned air (55 degrees F) is provided for space temperature control, while partially conditioned air at 65 degrees makes up for air removed by the kitchen exhaust hoods.
Six high-efficiency water heaters provide hot water delivery through a series of smart-control mixing valves. These will allow precise hot water supply event at low flows for the teaching kitchens as well as Hotel guests.
A system of motion sensors that detect when no one is in a classroom or other space, turning lights off when no one is in the room.
A related system works with the new guest registration software system, allowing unoccupied guest rooms to be put into a "dormant" mode when unoccupied. A new guest registration will automatically re-activate the room's climate and other controls.
Kaldenberg says the many energy efficiencies are "very much worth it" in current and future savings. "With all these initiatives and tools in place, we will be able to see utility incentives back to the college of around $225 thousand. Then we consider the cumulative payback on these energy saving investments at just over two years. By around 2013, all these efforts will be returning big savings to us, every year. That's good for our community and everyone," he added.
More information on The Hotel at Kirkwood Center is available from the facility staff at (319) 848-8701; or via the Web:
Organization
The Hotel at Kirkwood Center
7725 Kirkwood Boulevard SW
Cedar Rapids, IA 52404
United States
Tollfree: 877-751-5111
Phone: 319-848-8700
Fax: 319-848-8750
Visit Website | Send Email

Social Media
Contact
Lee Belfield
General Manager
Phone: 319-848-8701
Fax: 319-848-8750
Send Email
Focus
Hotel Openings
Hotelschools | Universities
Geo Relevance
USA & Canada
United States, Cedar Rapids
Source
Click here to view the original version of this release.
Website
Click here for this releases related website.