The Young Hoteliers Summit (YHS): "An incredible job" – quote by Michael Levie (CEO CitizenM)
The Ecole hôtelière de Lausanne welcomed 8 leading international hotels schools for the first day of the Young Hoteliers Summit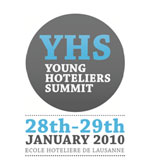 Fri, 29 January 2010
The awaited day has finally arrived: The Ecole hôtelière de Lausanne and the Career Club eagerly welcomed 40 of the brightest minds in the hospitality industry today. The first day of the Young Hoteliers Summit featured the first phase of "idea creation" and the respective results, a panel between industry leaders and students as well as an outstanding speech by Michael Levie (CEO CitizenM).
Students from 9 international hotels schools, industry leaders such as Kevin Coleman (Vice President Market Strategy Jumeirah Group), Guy Crawford (CEO Jumeirah Group) and Bernard Fierens (Senior Vice-President Private Bank Edmond de Rothschild) started the first phase of the event, "idea creation", this morning at Brainstore. The participants were very enthusiastic about the new methods of idea generation presented by the idea factory, enjoying working together in a creative environment. Brainstore's innovative process provided very interesting results which will serve as a base for the delegates in order to solve the creativity challenge given by the Jumeirah Group. The prize for finding the most valuable solution to the given challenge will include a five day trip to Dubai, where all members of the winning team will have the opportunity to shadow the executives of the corporate headquarters of the Jumeirah Group. Expedia will be sponsoring the flights to Dubai where the winning students will be offered a stay at a Jumeirah property.
Following the creativity sessions, students and industry leaders came together for a panel to discuss the relevance and the role of academic concepts in the real world of hospitality management. The important points resulting from the panel were that not only do young hoteliers have to be able to structure their thinking, but also have integrity and honesty as well as the right ethics to be successful in today's challenging hospitality industry.
The entire YHS delegation, the Career Club and the Ecole hoteliere Lausanne are looking forward to the second day of this inaugural Young Hoteliers Summit which highlights Guy Crawford's and David Cochrane's (CEO Hospitality Industry Trust) speeches as well as the final ceremony where students will be presenting the solutions for the creativity challenge. Industry leaders, press and the general public are welcome to attend the final ceremony, unique opportunity to witness the outcome of this first Young Hoteliers Summit.
GENERAL INFORMATION
What is the Young Hoteliers Summit?
The Young Hotelier Summit (YHS) is a project initiated by the Career Club, a student-run organization at the Ecole hôtelière de Lausanne (EHL). The event will be held on January 28th & 29th 2010 with the aim of broadening the communication between international hotel schools. YHS will feature a competition amongst teams composed of members from different participating schools competing against each other to give solutions to a creativity challenge proposed by the Jumeirah Group. In addition, an enriching program of presentations, panels and workshops will be organized around the topics raised in the creativity challenge.
Participating schools
Hotelschool the Hague (Netherlands)
Rosen College of Hospitality Management (USA)
Hong Kong Polytechnic University School of Hotel and Tourism Management
Sagesse University of Hospitality Management (Lebanon)
Breda University of Applied Sciences (Netherlands)
Emirates Academy of Hospitality Management (United Arab Emirates)
Institute of Hotel Management Aurangabad (India)
Shannon College of Hotel Management (Ireland)
Official sponsors
Lausanne Hospitality Consulting (LHC)
Taj Hotels and Resorts
Related Event: The Young Hoteliers Summit (YHS)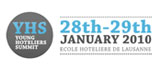 -
Ecole hôtelière de Lausanne - Lausanne, Switzerland
Event Details
Organization
YHS Global
c/o Ecole hôtelière de Lausanne | Le Chalet-à-Gobet | Case Postale 37
1000 Lausanne 25, Switzerland
Visit Website | Send Email

Social Media
Contact
Alina Swirski
Phone: (+41) 79 917 3546
Send Email
Focus
Events & Conferences
Hotelschools | Universities
Geo Relevance
Europe
Switzerland, Lausanne